BACK
4 Effects of Blockchain On The Retail Industry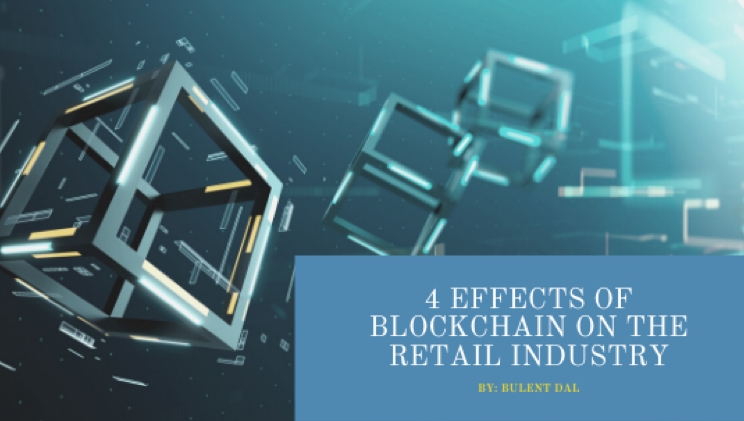 Thanks to Bitcoin, we have been talking about transferring money and shopping in different points of the world with no central authority, almost for over a decade by now. Behind Bitcoin, there is a digital currency that comes into life through a reliable, cryptographic protocol – blockchain technology.
With Blockchain, digital data is not stored in centralized systems, but is kept in the form of linked records on multiple distributed systems. In a structure that can be described as a 'digital registry' held on millions of computers, transactions are stored in an encrypted form. The way to exploit such a system, is not to hack a central – or any – computer. This doesn't work. Since the chains are distributed to millions of computers, it is hopeless to change any record on all of them and abuse the system.


In addition to being reliable, Blockchain also eliminates the financial middlemen. With Blockchain, access is granted only to users that are allowed to see the entities. All operations related to the digital registry can be done with absolute reciprocal confirmation on this reliable network where the information source is clear and transparent. In classical digital systems, the transaction is conserved by a central authority while the parties receive a copy, whereas the distributed system grants direct access to the parties. Goods, services, payments, asset purchases can be done faster and with lower transaction costs.

All of this shows that the Blockchain technology and Bitcoin that entered our lives with the finance sector but will seriously affect other spaces as well, especially retail;
Source Of Product / Authenticity:
The main effect of the blockchain will be to provide consumers with more reliable and accurate information about the products they buy and the information they are sensitive to, such as the source, purity and content. Consumers prefer retail chains that they can trust, when they have problems detecting the authentic and the fake.A recent survey shows that 40% of consumers who are aged under 49 believe that products sold with organic qualification do not reflect reality and this is just a marketing tactic. The data provided with the blockchain can provide information down to the seed level or the animal's DNA.
More Reliable Digital Transactions And Operations:
Nowadays, payment transactions between consumers and business partners are executed via third parties, incurring speed and commission costs. Blockchain-based payments and transactions need no third party. Faster and abuse-free transactions will increase the efficiency of collaborative work and costs will be reduced. In particular, invoice matching, goods receipt and quality control processes will be improving. Organizations can shift their EDI (electronic data interchange) processes – where orders, invoices and delivery processes are registered – to blockchain.
Supply Chain Traceability:
In complex supply chains, product tracing and stock control become challenging and managing it needs enormous effort. As we all know, in the supply chains where product traceability is difficult, the bullwhip effect leads to the overstock. In addition to monitoring products with Blockchain, supply chain can be dynamically monitored and the conditions agreed upon on the smart contracts can be audited, enabling the work and payment orders to be dynamically generated. Unsafe food production and inappropriate distribution may be prevented at the source. As a result, product reliability, instant service quality control will be ensured and exploitation will be avoided.
Network Loyalty Programs:
While many companies try to broaden their loyalty programs beyond one brand, the loyalty apps running on multi-brands and multi-organizations are very popular by now. Blockchain can contribute with the real-time tracking, allowing points to be processed faster, cheaper and more reliably both for the brands and the customers of these loyalty programs. Customers can receive hyper-personalized suggestions and even have the ability to customize them, e.g. enabling the customer to exchange points with other users, enhancing customer loyalty and avoiding customer churn.